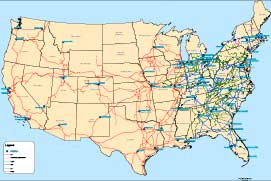 Auto Ramp Map
Our car-hauling network is essential to providing great service to our customers and keeping our commitment to safety. Loup has built strong relationships with reliable auto shippers across the United States. Working with safe, dependable and trustworthy car haulers helps ensure our customers are satisfied with every shipment. Loup views rail and truck carriers as part of our team — together, we work to meet our customers' time, cost and quality requirements.
Car Haulers Wanted
Are you interested in becoming part of our carrier team? Start by reviewing our Carrier Agreement, then register to be a carrier for Loup. Once you've completed registration, we'll contact you regarding your capabilities and service area.
Event Reporting Requirements
Shipment quality, efficiency and timeliness are important to our customers, so Loup requires car haulers to report all shipment events. Carriers can report events via Electronic Data Interface (EDI), online, fax, interactive voice recording (IVR), email or via mobile app.
You should transmit timely notification of pick-up and delivery events, which include location, date and time, as well as a completed Proof of Delivery (POD) form. A completed POD form is required for payment of invoices.
Become a SmartWay Partner
Loup is a registered Transport Partner with SmartWay®, an EPA initiative to reduce greenhouse gas emissions and air pollution created by freight transportation in corporate supply chains. We encourage our registered car haulers to join SmartWay and participate in this important program.
SmartWay helps you measure, benchmark and report carbon emissions — all to help boost operating efficiency and environmental performance. All you do is submit your freight activity data into a free, downloadable tool.
As a SmartWay Transport Provider, you can:
lessen your carbon footprint
reduce fuel usage
demonstrate your commitment to sustainable business practices
enhance your corporate image
Becoming a SmartWay Transport Partner is free; we hope you'll join Loup in this important endeavor. Visit epa.gov/smartway to learn more or join today.
Expand Your Trucking Business
Do you have more business than you can handle, or do your customers need longer distance shipping beyond your normal capacity? You don't have to turn it away. Team up with Loup — we'll handle the long haul by rail and you'll keep the business. Give us a call at 866-207-3360 to learn more about how Loup can help you expand your business.