Direct Truck vs. Multi-Modal
Choosing Your Best Option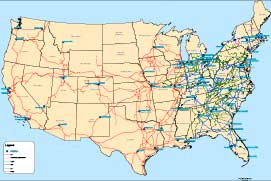 Auto Ramp Map
The two most common modes of auto shipping in the U.S. are truck and rail transport. Depending on timing needs, vehicle size and shipping distance, some modes can be more cost effective or environmentally responsible than other modes.
Auto transportation via truck has been the most common means of shipping wholesale cars. It can be the fastest mode of transport, but can also be the most expensive.
Rail, on the other hand, is the most common means of shipping new cars. This mode is becoming more popular with wholesale vehicle shippers because transporting large volumes by rail can offer cost savings that more traditional truck options can't match.
Regardless of shipping mode, Loup is committed to the safe delivery of your vehicles.
How Does Multi-Modal Work?
When shipping cars by rail, it still begins and ends with a truck carrier. A designated truck carrier picks up vehicles and brings them to the appropriate rail terminal. Once there, vehicles are carefully loaded onto fully enclosed rail equipment where they are secured inside the rail car with straps and tire chocks to prevent damage. After the train arrives at the destination rail terminal, vehicles are carefully unloaded and scheduled for final delivery.
Loup frequently leverages multi-modal truck and rail shipping to take advantage of its efficiency and economy of scale so we can pass the benefits to our customers.
---
Which Mode Is Right for You?
Loup will customize an option to meet your needs. To get a feel for which mode of transport is right for you, answer the following questions.
If you answer yes to the following questions, multi-modal with rail is your best option:
Is your move more than 500 miles?
Are you moving 8 or more cars at a time?
Are the origins and destinations near rail ramps?
Are you willing to accept slightly longer transit times in exchange for cost savings?
Are you having trouble finding truck capacity?
Are the vehicles operable?
Does your company get credits for reducing carbon emissions?
If you answer yes to the following questions, direct truck is your best option:
Is the move extremely time sensitive?
Are the vehicles operable?
Is your move less than 500 miles?
Are you moving fewer than 8 vehicles at a time?
Contact a sales rep to get started on your customized multi-modal solution.
Find your sales rep