Remarketing services
Get the Most for Your Transportation Dollar
Loup uses a revolutionary multi-modal shipping model to give you greater market reach without additional cost or effort. Using a combination of both truck and rail, we offer flexible solutions to provide you with better shipping options.
Have a Problem? We'll Find a Solution
By leveraging multi-modal truck, rail and driveaway solutions, Loup can help you solve many of the transportation and logistics challenges you face today. Here's how:
Problem: Limited truck capacity
Example: Everyone is shipping vehicles out of the Northeast, so truck capacity is tight. What do you do to make sure your vehicles move in a timely fashion?
Solution: Loup works with all of the major railroads to find empty rail cars that can move your vehicles where they're needed. With rail as part of your solution, you won't be stuck: you'll have transportation options to get your vehicles moving.
Problem: Price fluctuations make it difficult to budget
Example: Truck rates fluctuate with the market. When demand is high, you pay more.
Solution: Rail rates tend to be more consistent and are generally more economical than market-based truck rates. Even if you've never used rail, Loup can make it work for you — and you'll budget better with more consistent pricing.
Problem: Transportation costs cut into profits
Example: You want to move vehicles farther to a more profitable market, but transport costs eliminate any profit you would make.
Solution: With a multi-modal solution, you can ship farther, more affordably. This allows you to sell in more markets without sacrificing profit.
Problem: You spend too much time on transportation
Example: Arranging transportation requires a series of time-consuming actions: you hire a trucker to pick up vehicles at the dealership, then you find a lot where they'll be stored until sale. And finally, you hire truckers again to move the vehicles to various auctions.
Solution: Loup can coordinate all of your post-lease-turnback services: dealer pick-ups, marshaling/storage, inspections, reporting and final distribution to auctions and buyers. You make a single call to us, and we'll handle everything from there.
---
More About Rail
Loup has access to the nation's largest rail network, making us unique in the shipping industry. Through our rail solutions, we bring the benefits of rail to large-volume auto shippers. When you work with Loup, you can expect:
Access to a nationwide rail network.
Agile solutions that adapt when conditions change. We can adjust between rail ramps and between truck and rail service to keep your vehicles moving.
Convenience and ease. Loup coordinates all of the moving pieces so you don't have to.
Experts who use their extensive railroad knowledge to provide you with profitable rail solutions.
More efficient and economical transport of large volumes compared to truck.
Options for moving large volumes of vehicles off your lot to the rail ramp, allowing you to manage your inventory more effectively.
Real-time updates through the railroad's radio-frequency identification (RFID) tags and readers across the network.
The right balance between cost and speed to meet your needs through the optimal pairing of rail and truck transport.
---
Complementary Services
Beyond providing creative and effective transport solutions, Loup also provides services that complement your core transportation needs, including:
Dealer pick-ups
Inspections
Inventory visibility
Marshaling and storage
Reporting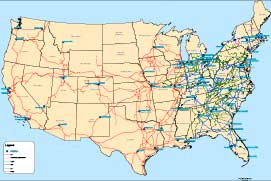 Auto Ramp Map