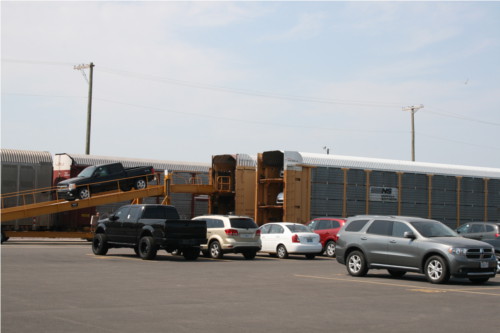 Wouldn't it be nice if every vehicle shipment fit conveniently into full rail cars? No empty spaces, just packed auto racks and an economical full-load rate.
That would be great, but we all know it's not a reality. The number of units you ship fluctuates, and sometimes that means less than a full load. But here's something you might not know: with co-loading, in certain lanes you can still get a full load rate even for those smaller shipments. That means you can continue to leverage rail to ship farther, more affordably.
What Is Co-Loading?
Co-loading is when shipments from two or more shippers having similar origins and destinations are combined into one load, providing full-load economics for less-than-full-load vehicle shipments.
Co-loading benefits smaller volume shippers with full-load pricing on just a few units and also benefits the volume shipper by getting the load moving sooner instead of waiting for fillers.
Why Didn't I Know About Co-Loading Before?
Until recently, co-loading of wholesale vehicles was only available for truck shipments; vehicle shipments weren't able to be co-loaded because of railroad billing constraints and additional coordination needed between railroads and shippers. Fortunately, ShipCarsNow has been working diligently to open this mode of transport to remarketing customers and now offers co-loading in several lanes.
How Does It Work?
When there is sufficient density of volume in a specific shipping lane, we work closely with the origin railroad and their rail loaders to coordinate inbound shipments from multiple consignors. Once the vehicles reach the destination rail ramp, we then coordinate with our truck shuttles to deliver the units to their final destination(s). Remarketed vehicles may travel with other auction-bound units, or with new vehicles shipping from manufacturing or port locations to major metropolitan areas.
ShipCarsNow currently has co-loading opportunities available in these lanes:
| Origin | Destination |
| --- | --- |
| Los Angeles, CA | Portland, OR |
| Los Angeles, CA | Kansas City, MO |
| Los Angeles, CA | Dallas, TX |
| Chicago, IL | Los Angeles, CA |
| Chicago, IL | Kansas City, MO |
Would you like to be able to ship less than a full load of vehicles and still take advantage of economical rail transport? Check with your sales rep to see if co-loading is available in your area.