If you already ship cars by train, you know benefits abound: it's safe, reliable and more affordable for long-distance moves. But whether you're new to rail or an old pro, what actually happens at an auto ramp might seem a little confusing. We answer your commonly asked questions and take the mystery out of rail ramps.
Q: What is an Auto Ramp?
A: Automotive rail ramps are where all cars come to be loaded onto trains for rail transport or are unloaded at the end of their rail journeys. Most are located in metro areas, near auto manufacturing plants and their major distribution centers.
Q: Can anybody access an auto ramp?
A: Safety is the railroad's number one priority, so only rail personnel and licensed, approved car haulers are allowed entry to an auto ramp. All auto ramps have 24-hour security.
Depending on the size of the auto ramp and the railroad's loading processes, an auto facility may require delivery of only full rail car loads. If the ramp has marshaling space available, it is often possible to bring in a few units at a time to be stored until a full rail car load is ready to be shipped.
If this sounds confusing, don't fret: ShipCarsNow knows the ins and outs of auto ramps and their various requirements; we're here to navigate the process for you.
Q: How many vehicles can fit on a rail car?
A: The majority of automotive rail cars (called "auto racks") are either bi-level or tri-level cars. Bi-level rail cars generally hold 8-10 units and are used for larger vehicles, like trucks, minivans and SUVs. Tri-level rail cars can hold up to 15 passenger vehicles at a time.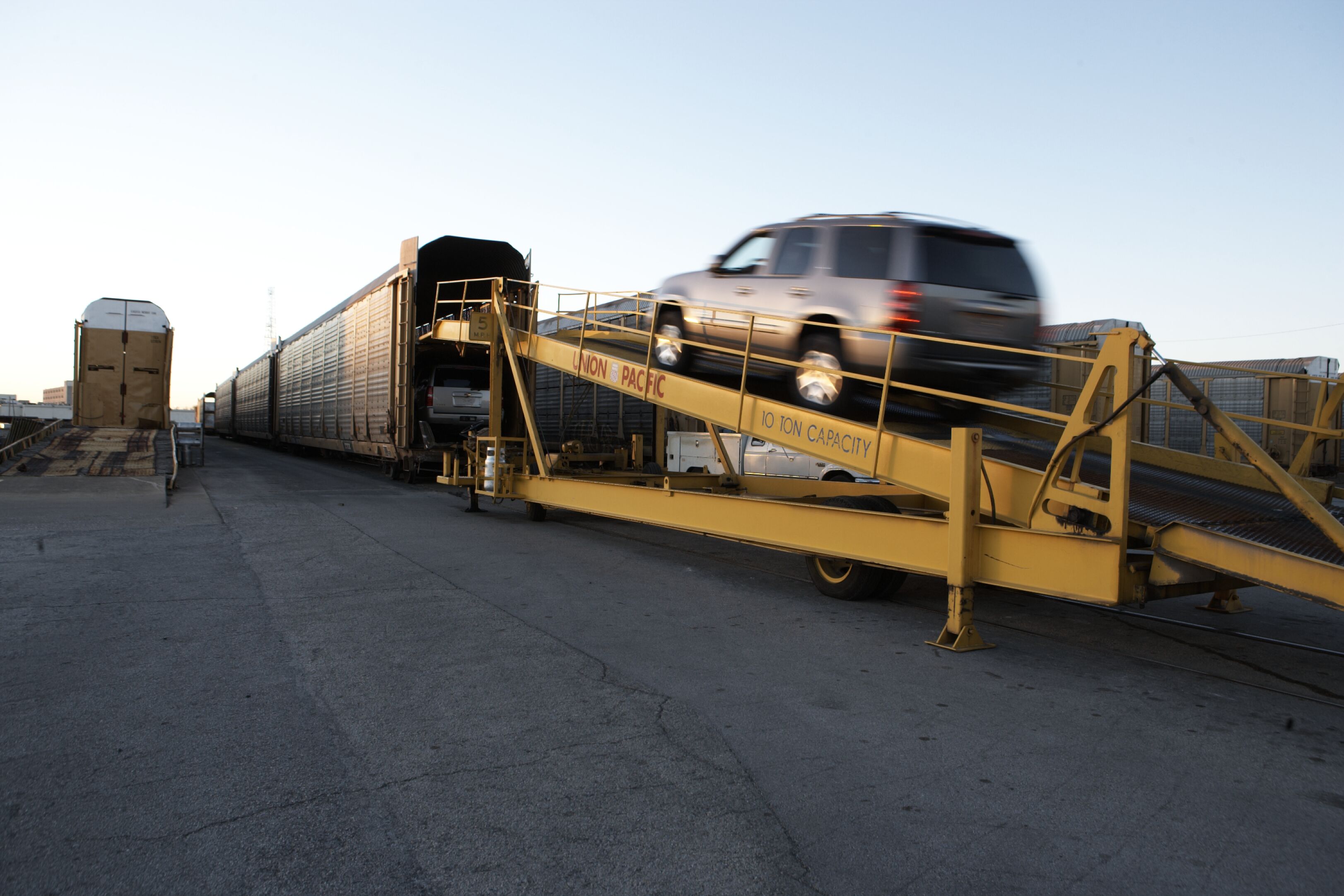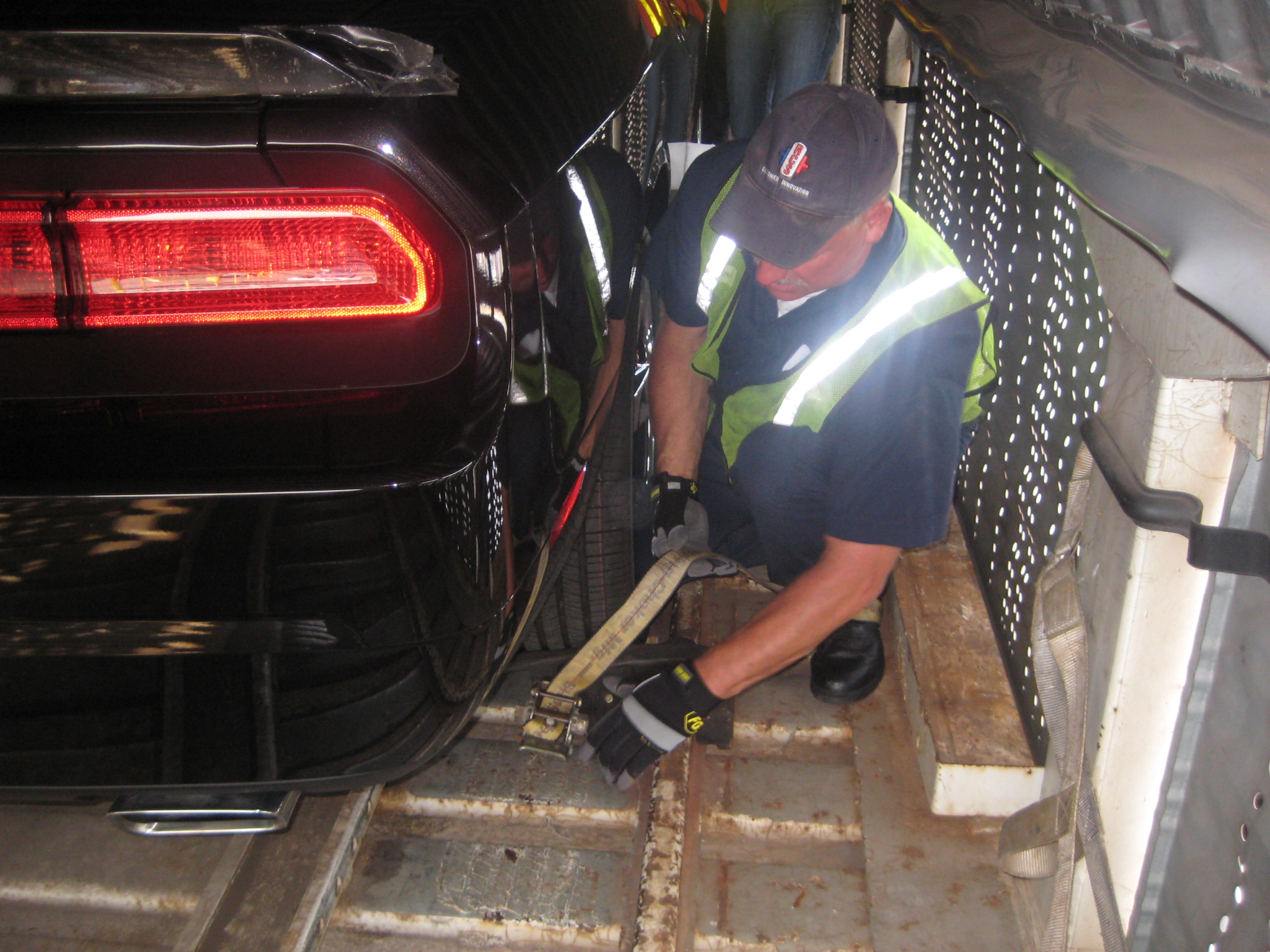 Q: How are vehicles loaded onto an auto rack?
A: Vehicles are loaded onto and off of auto racks via Buck loaders — mobile ramps that drive up to the rail car and raise the ramp to the height of the appropriate deck, allowing vehicles to be driven onto or off of the rail car. Cars never load faster than 5 mph.
Once a vehicle is loaded onto a rail car, auto ramp professionals secure each wheel to the rail car with special straps and chocks to keep it securely in place and damage free during transit.
Auto ramp staff members are specially trained to handle vehicles with care. Ramp personnel must be dressed in reflective clothing without any exposed metal objects that could cause damage to a vehicle, like belts, watches, rings or other jewelry. When moving vehicles around the lot, they are not allowed to use cell phones, lounge or smoke so that vehicles remain safe and in the condition in which they arrive.
Q: Once vehicles are unloaded from rail cars, where do they go?
A: Vehicles are parked in assigned bays at the auto ramp lot, which looks much like a regular paved surface parking lot. What's different, though, is vehicles are not parked between the lines, but rather on the left line of the parking space. This gives drivers room to enter/exit vehicles and reduces the chance of door dings. Vehicles stay in their assigned bays until car haulers arrive to take them to their final destinations.
Q: What about quality and performance standards at the individual facilities?
A: The Association of American Railroads (AAR) has worked with OEMs to establish consistent processes and procedures for use by all railroad auto facilities. These procedures are designed to minimize potential vehicle damage and protect the safety of workers. The AAR performs unannounced quality audits of all facilities at least annually. The quality audits review 75 different checks and have quantitative metrics, which are used to score and rank all the facilities.
Still Have a Burning Question?
We're happy to answer all of your questions about auto ramps, shipping by train or any other auto transport topic. Call us at 866-207-3360 or contact your rep.