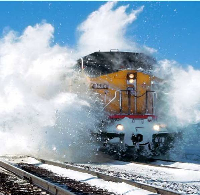 According to the American Association of Railroads, U.S. railroads prepare for winter weather well in advance to prevent weather-related service disruptions. Here are some examples of what they do to protect rail service:
Invest in new equipment

like jet blowers, slush scrapers and snow plow blades to keep tracks clear of snow, portable backup generators to power equipment, and blizzard buses to transport additional staff where help is needed. Switch heaters are also used to keep switches clear of snow and ice and keep trains running in freezing temperatures.

Staff winter weather command centers

in Northern regions to make ground-level decisions on such things as train crew deployment, maintenance coordination and contractor management — all of which keep trains moving in inclement weather. Union Pacific provides service units additional employee training on winter weather to ensure safe working conditions while maintaining the highest level of service possible.

Add more locomotives to the network

during extremely cold months. Cold weather impacts braking systems, which are connected through each rail car. As temperatures drop, so does braking effectiveness, limiting the number of cars that can be placed on a train. Adding locomotives in the middle of trains allows railroads to maintain train lengths while also ensuring brakes operate at full capacity.

Collaborate with other railroads

to determine how to best avoid congestion should severe weather cause backups in high-traffic areas. This includes use of alternative routes or gateways when sections of track are inaccessible.